Annual Marijuana Business Factbook
7th Edition | Release Date: May 29, 2019
The 7th Edition of the Annual Marijuana Business Factbook will be available on May 29, 2019. Three quarterly digital updates will be included with your purchase in August, November and February.
The 7th Edition of the Annual Marijuana Business Factbook will include:
Key industry market trends to watch
Overview of the national business landscape
Insights and opportunities state-by-state
Analysis from each segment in the industry
The 7th Edition of the Marijuana Business Factbook will be available on May 29, 2019. Sign up here to receive notification when it's available for purchase.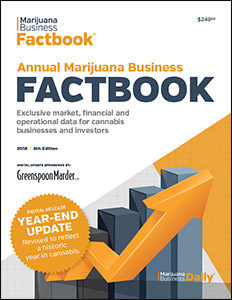 Coming soon for print and digital purchase – the 7th Edition of the Marijuana Business Factbook.
7th Edition Sponsored by:


---
The 6th Annual Marijuana Business Factbook
Released during MJBizConNEXT 2018, the 6th edition introduced more than 300 pages of all-new and exclusive financial benchmarks, stats and forecasts as well as data on revenue, profitability and costs. The research published in the Annual Marijuana Business Factbook is essential for all professionals in the cannabis industry today.
Editors and analysts at Marijuana Business Daily painstakingly research and evaluate the industry year-round to provide readers with the most comprehensive analysis on evolving trends in every sector. Marijuana Business Daily provides the most trusted and unbiased business news coverage of one of the globe's fastest growing industries.
The official Year-End Update includes the latest financial, operational and regulatory developments you need to position yourself for long-term success.
The digital Year-End Update includes:
New regulatory and market trend information in each State-By-State overview entry
Amended financial benchmarks accounting for dynamic global investment conditions
Adjusted projections and overall economic impact in consideration of more immediate and rapid market expansion worldwide
Revised charts in multiple chapters incorporating the newest sales, employment and investment data
If you already own a copy of the 6th Edition: Click here to log into your account to automatically access your updated digital version. The Year-End Update will not be reissued in print.
Interested in learning more? Download the FREE PDF excerpt of the 6th Edition here.
---
As seen in: